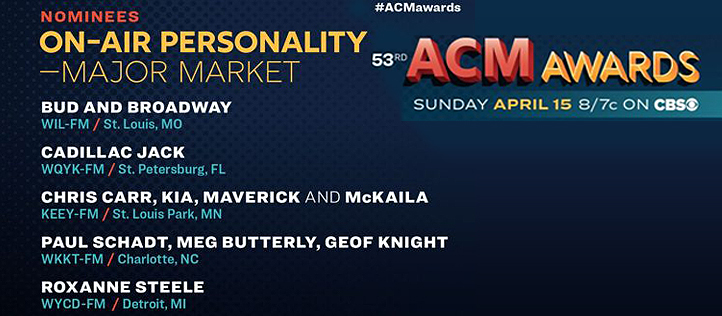 Roxanne Earns Big ACM Nomination for Major Market Personality of the Year!
What an honor to be nominated for an ACM Award! My first ever!!   As a new radio personality to country radio, I entered the contest with no expectations.  I absolutely love my job as a radio personality at WYCD, and I wanted to submit my show for consideration.    I honestly didn't think I had a shot in hell because of the simple fact that I'm not a big morning show or a part of a a big afternoon show. Just a midday girl having fun on the radio!    Even some of my radio peeps I know were surprised I was submitting myself.  Hey if you never try in life you will never know.
So THANK YOU to the Academy of Country Music for this huge honor!  What a thrill.  For the judges who voted for me, thank you for enjoying my demo, and the energy and passion I bring to the radio dial and for making me an ACM nominee!  I will forever being thankful for this amazing moment!   Congratulations to all the radio winners just announced including Bud and Broadway from WIL-FM in St. Louis for winning Major Market Personality of the Year!
Be sure to catch all of our favorite country stars at the 53rd Annual ACM Awards live from Las Vegas on April 15th 8/7c on CBS!